10 Crucial Steps to Find Affordable Web Design Services In UK: 90% People Don't Know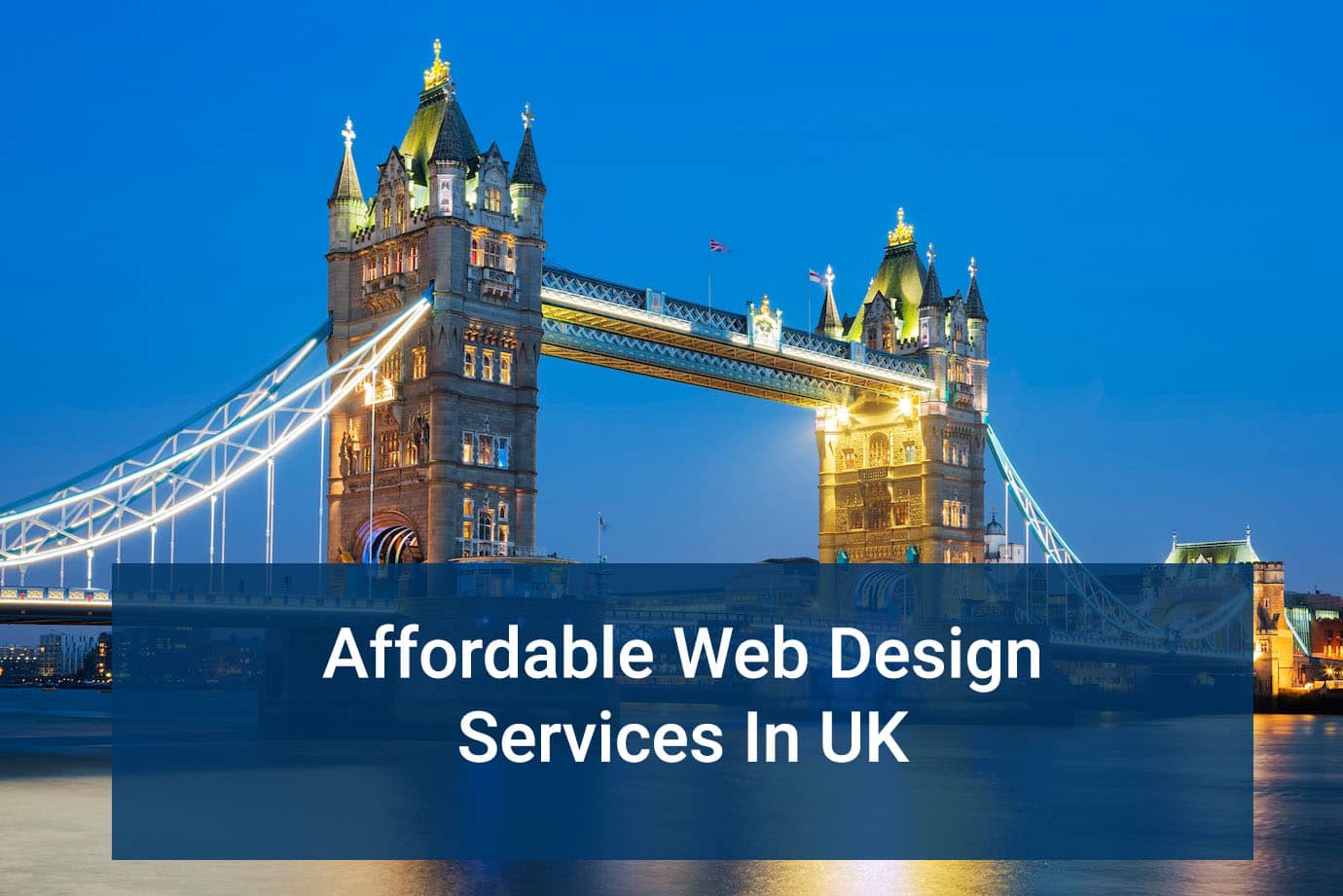 Web design services are one of the most sought after services in UK owing to the fact that almost most of the businesses are now operated online. A professionally designed website can help businesses stand out from their competitors, attract customers, and boost sales.
Here are some of the convincing reasons why you need a perfect website design to voice your brand:
75% of customers judge the credibility of any business on the basis of its website, according to recent studies. A cheap website design may break your brand credibility.
According to Goodfirms, A non-responsive website design is one of the leading cause for visitors leaving the website.
59% of customers prefer a beautifully designed website. 
 62% of companies reported that mobile responsive websites increased their sales. 
Hence, a responsive website is imperative for any business to stay ahead of its competition.
Hiring a website freelance website designer or a company is essential to deal with the issues like bad navigation, outdated design, poor content structure, slow loading, and intrusive use of Audio/Video. These are reported to be some leading causes visitors leaving your website and downgrading your business reputation.
Employing a digital designer and web developer leads to a projected growth by 13% from 2020 to 2030, according to recent research.
Cost of web design in London, UK Vs India
India has emerged as a growing IT hub, and worldwide companies are favoring outsourcing their IT – tasks including website design and development to India. One of the premier cause for this outsourcing is their affordable web designing services in India
| | | |
| --- | --- | --- |
| Business website | Freelancer | Agency |
| WordPress –(Template Based) | £ 500 | £4,000 |
| Hand Coded – (WordPress) | £ 1000 | £7,000 |
| | | |
| --- | --- | --- |
| E-commerce | Freelancer | Agency |
| WordPress – (Template Based) | £ 1,000 | £12,500 |
| Hand Coded (WordPress) | £5,000 | £25,000 |
Hence the web designing company in UK costs you much higher than outsourcing it to a competent freelance website designer in India.
Hence, you must consider a reliable yet affordable web design service in UK. Here are 10 crucial steps that can help you find an affordable web design service without compromising quality.
10 Significant Steps to Find Affordable Web Designing Services in India
First and foremost, you need to know what your business website needs. It is important to have a clear idea of your business goals and objectives. This will help you communicate your requirements to the web designer in a better way.


Do your research

The first step is to do your research and look for companies that offer web design services in UK. Once you have shortlisted a few companies, check out their portfolios and see if they have experience in designing websites for businesses in your industry.

Web Designer Freelancer Vs Web Designing Company

You have a choice between a web designer freelancer and a web designing company for your web designing project. Web designer freelancers are the ones who work independently and are not associated with any company. On the other hand, web designing companies have a team of designers who work on various projects. Both have their own pros and cons.

Pros of Hiring a Web Designing Freelancer

One of the greatest advantages of hiring a web designer freelancer in India is their affordability. Compared to any web designing company, a freelancer will charge you much less for their services, delivering cheap web design with high quality. Web design freelancers also offer customized services as per your requirement and budget. 

Cons of Hiring a Web Designer Freelancer

There used to be a risk associated with hiring any freelancer as there is no guarantee that they will deliver the project on time. Another disadvantage of hiring a web designer freelancer is that they might not have a good team to support them, in case you require any changes in the website design. Hence, you should investigate more about their performance in previous projects to analyze their capabilities. 

Pros of Hiring a Web Designing Company

When you hire a small business website design UK company, you can be rest assured that your project is in safe hands. These companies have a team of experienced professionals who will work on your project and deliver it on time. Web designing companies also offer after sales support, in case you require any changes in the future.

Cons of Hiring a Web Designing Company

The only downside of hiring a web design company is that they charge more compared to web designer freelancers.
As we are aiming for affordable web designing services, A web designer freelancer shall be an ultimate choice.



Get quotes

Once you have shortlisted the freelancers that you are going to assign your web design project, get in touch with them and ask for quotes. Carefully analyze their profiles and experience to understand if they could be a good fit for your business. Make sure to get quotes from at least 3-4 freelancers so that you can compare and choose the most affordable option.



Negotiate

Once you have received the quotes, it's time to negotiate with the companies. See if they are willing to offer a discount or work within your budget. Carefully analyze their proposals to understand what are the inclusions and why there is considerable difference in pricing. Sometimes, the quotations with high price come with better value

Ask for referrals

A good way to find affordable web design services is to ask for referrals from businesses that have recently launched their websites. They will be able to guide you in the right direction and help you find a company that suits your budget and needs. They will also share the real-time challenges they faced during their web designing project and what can you expect from a specific freelancer.

Check reviews

Another great way to find affordable web design services is to check online reviews. This will help you get an idea about the quality of work provided by different companies. You should not completely rely on these reviews as it might be a part of marketing propoganda for many web designing companies. However, if you are hiring a freelancer, ask for their profiles on the freelancing platforms like upwork, freelancer, peopleperhour etc to find out credibility about their services. 



Compare prices

After considering all the factors, it's time to compare prices and choose the most affordable option. Make sure to also compare the quality of work before making your final decision

Evaluate their CMS

Content Management System is one of the crucial aspect of web designing. You should ensure that the agency you are selecting can successfully develop a CMS according to your business requirements. A good CMS will help you manage your website content easily and keep it updated regularly.

Go for a trial

Once you have decided on a company, go for a trial run to see if they are able to meet your expectations. This will help you avoid any surprises down the line. After elaborating your requirements, you may request them to create a prototype or to showcase their preious work on the grounds similar to your requirements. IT will minimize the chances of error and conflicts at the later part of website development.



Compare prices:

Once you have considered all the above factors, it's time to compare the prices of different companies and select the most reasonable and affordable option. While comparing, pricing also take into consideration the type of services they are offering. It will help you in finding the best deal.

Finalize with Agreement

Once you have decided on the company, it's time to finalize the agreement. Make sure that all your requirements are mentioned in the agreement so that there is no scope for misunderstanding later on. Also, discuss about the mode of communication and frequency of reporting so that you can keep track of their work progress. Also specify the pricing terms to avoid any ambiguity at the later stage. 


Frequently Asked Question
How Much Does A Website Designer Charge UK?

Varying with the expertise and experience, on an average a freelance website designer charges between £10 and £100 per hour, according to expertmarket. Other factors such as quantity/quality of the project, location and the reputation of freelancer also affects the pricing.

Can I Design My Website On My Own?

Yes, you can design your website on your own but there are several technical aspects that only professional website designers can handle efficiently. A poor website structure leads to several issues at the later stages, ruining the foundation of your website.
Hence, it is highly recommended to consider the services of proficient and professional website designer to develop a business website that stands out of competition



What Are the Benefits of Hiring Freelance Website Designer in India?

Some of the incredible benefits of hiring freelance website designer in India are:
Competitive Pricing: One of the key advantages of hiring a freelance website designer in India is their cost-efficiency. Owing the currency differential, outsourcing the website development and design projects to Indian freelancers saves you a lot of money. 
You can even hire the most experienced Indian website design freelancers at the most affordable pricing. 
Flexibility and Special Expertise: Most freelancers are available at the short notice to fulfill your sudden demand. As they are specialist in their respective field, they can easily adept to the niche tasks easily
High Quality Work: Indian website designers are sought after for their wide experience and expertise. They are one of the competent freelancers across the world at an affordable pricing. According to CBRE survey, 755 of multinational companies across the world prefer to their IT outsourcing from India.
By following these tips, businesses in UK can easily find affordable web design services that meet their specific needs and budget. So, what are you waiting for? Get started with your search today!