Facebook Instant Articles: Everything You Need To Know
If you are thinking about writing some quality articles and publishing it on a right place that will benefit your business in many ways, I have an answer for you. Have you heard of Facebook Instant Articles? Are you wondering how to publish them? In this article I will tell you everything you need to know about Facebook Instant Articles and how to use them for the growth of your business.
What is Facebook Instant Articles?
Facebook Instant Articles, according to Facebook, is a tool for news publishers to distribute fast, interactive articles to their readers in the Facebook app. This mobile publishing format enables you to load your content 10 times than a normal web page. This amazing speed offers a better user experience and customers will never get bored and are more likely to share your content.
Josh Roberts, Product Manager at Facebook explains the format when he states; "Facebook's goal is to connect people to the stories, posts, videos or photos that matter most to them. Opening up Instant Articles will allow any publisher to tell great stories that load quickly, to people all over the world. With Instant Articles, they can do this while retaining control over the experience, their ads and their data."
Benefits of Facebook Instant Articles
Instant Articles is loved by bloggers and publishers for many reasons.
It is faster 10 times more than your site
Facebook Instant Articles was made to fix the problem of slow loading pages on the mobile. It loads your content at super speed; 10 times faster than normal web pages. Some recent surveys reveal that nearly half of web users expect a site to load in two seconds or less. And they are likely to leave a site that isn't loaded in three seconds. So, you need a faster loading content to keep users engaged and not leave promptly.
Facebook Instant articles, with this super speed, provide 20% more clicks, 30% more shares, and 70% lower bounce rate.
You can make (a lot of) money
Instant Articles helps publishers make money from their content easily. If you sell your own ads within your content Facebook gives you 100% of the revenue. If you run ads from Facebook Audience Network, Facebook will take a cut of 30% of the revenue.
The right place to reach your audience
Facebook Instant Articles is the right place to reach your target audience. People are using Facebook more any other channel as it has more than 1 billion active users.
So, by using Facebook Instant Articles which is ten times faster than a normal web page, you will be able to brand your business, reach a larger audience, generate more leads and attract new potential customers.
It makes deeper engagement
See what Jeremy Gilbert of the Washington Post states: "Comparing our performance before and after we started using Facebook Instant Articles, we have seen a dramatic uplift in the number of people who come more than once a week to our content, so publishing on Facebook Instant Articles brings recirculation and a deeper engagement."
Instant Articles' faster loading time and richness of the platform have resulted in this increased engagement. According to Facebook, users tend to share Instant Articles 30% more than normal web articles.
Great analytics
Facebook Instant Articles offers an advanced measurement of your activities on the site. It is integrated with some great analytic tools like Google Analytics, comScore, Chartbeat, Omniture, and Adobe Analytics. This integration helps you see how each of your published content is performing and give you more insight on what content really works and what doesn't.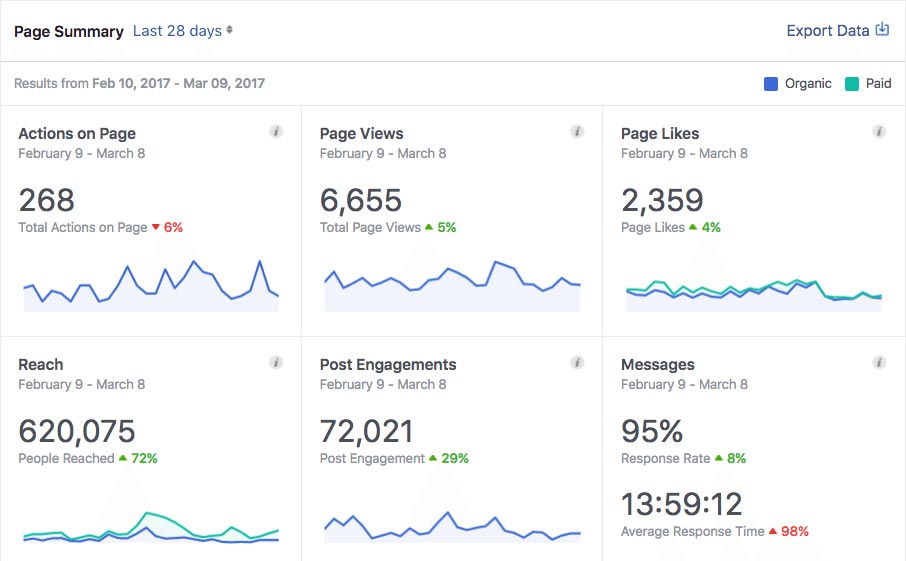 What Is Audience Network on Facebook?
According to Facebook, "Audience Network extends Facebook's people-based advertising beyond the Facebook platform. With Audience Network, publishers can make money by showing ads from Facebook advertisers in their apps or mobile websites".
Audience Network is a partnership between Facebook and several app owners that allows you to reach more people on different mobile apps. So, if you choose Audience Network to deliver your ad, your ad will appear not only on Facebook but also on other mobile apps in the network. According to Facebook, 40% of top 500 apps are integrated with Audience Network and there is 16% more reach on average globally than Facebook and Instagram alone.
Facebook Audience Network supports a variety of advertiser objectives including brand awareness, reach, traffic, engagement, app installs, video views, conversions, and product catalogue sales.
How Do I Publish My Article With Facebook Instant Articles?
The following steps will guide you to the Facebook Instant Articles to publish your content.
Step 1: Sign Up with Instant Articles
The first step in getting started is to sign up with Facebook Instant Articles. Log in to your Facebook account and got to facebook.com/instant_articles/signup.
Step 2: Choose the page and agree to the terms
Once you sign up with Instant Articles, select the Facebook page that you'd like to publish your content with. Agree to the Instant Articles terms and click the Enable Instant Articles button.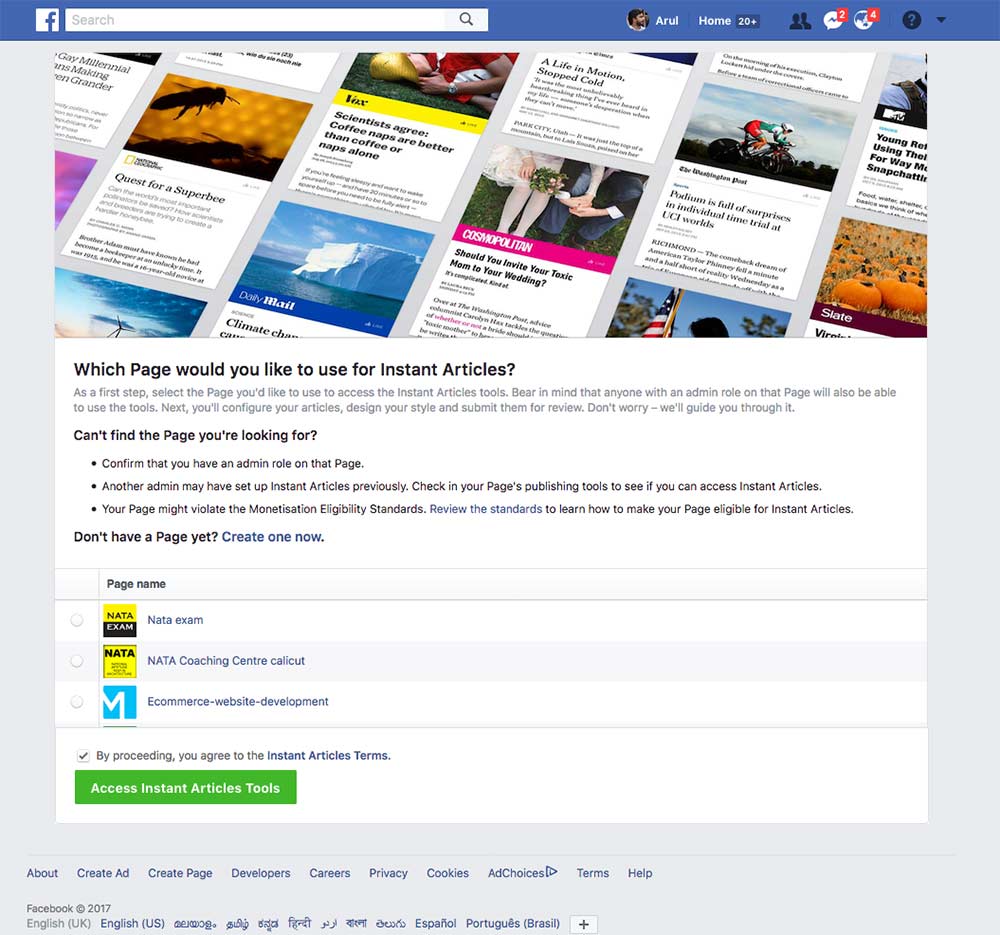 Step 3: Claim your URL
Once you've selected your Facebook Page, you'll be asked to provide a URL you intend to use for articles. This URL will serve as the basis for the URLs of all your Instant Articles. To claim your URL you need to add a meta tag to your HTML's <head> tag and then add the URL to your settings. All the information you need to do this can be found in the Instant Articles Settings.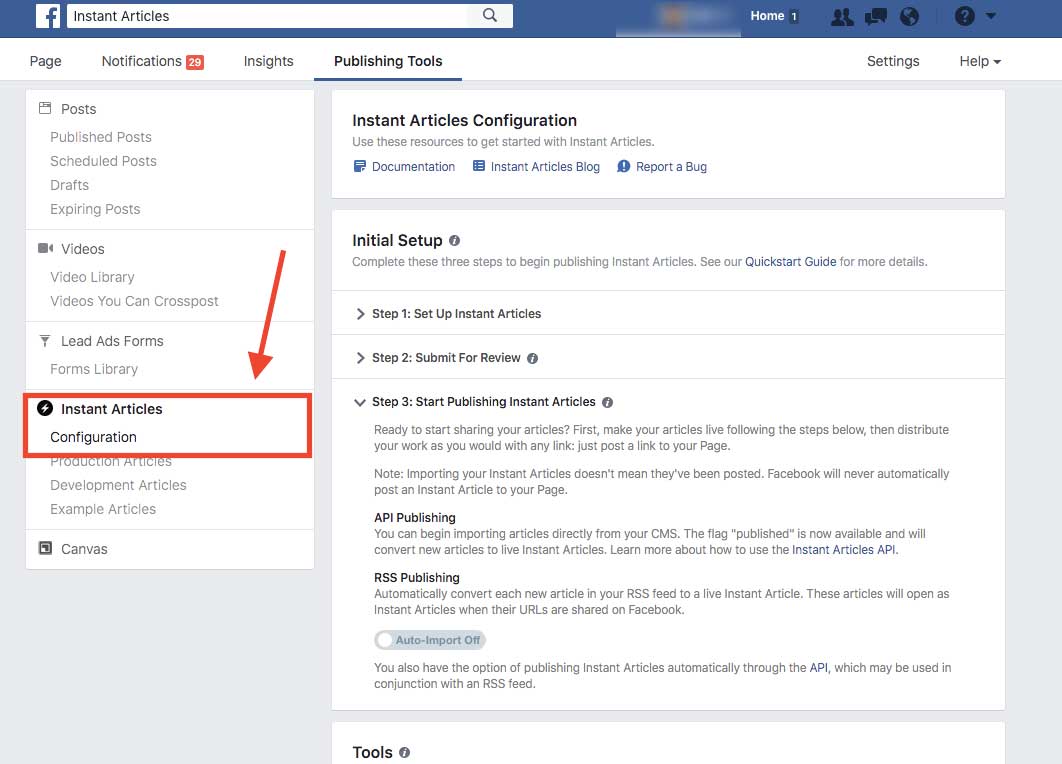 Step 4: Get your post ready
You can choose any of the three ways to convert your web articles into Instant Articles; (a) using a supported third-party publishing tool such as the WordPress plugin, (b) through an RSS feed, (c) with the Instant Articles API.
For WordPress, you can install the official plugin from Facebook. This is the easiest way to get set up with Instant Articles. Alongside the WordPress, Facebook has teamed up with many other publishing platforms like Drupal, Atavist, Medium, Perk Distributed, RebelMouse, ShareThis, Sovrn, Steller, and Tempest.
Step 5: Customize styling
You have options to customize the styling of your articles during setup. You can brand your Instant Articles by using a new style. To do this, go to Publishing Tools on your Page, then choose Instant Articles > Configuration.
Step 6: Submit articles for review
To submit your articles to be reviewed by Facebook, you must have 10 articles ready on your feed. The review process may take up to three days. And if there is any error in formatting you may be asked to resubmit.
Step 7: Publish your Instant Articles
After the submitted articles have been approved by Facebook, you will be able to publish them. In order to do so, go to the 'Production Article' tab and check any of the articles you want to publish and click 'Actions' and 'Publish'.
FAQ on Facebook Instant Articles
Here are some important FAQ on Facebook Instant Articles.
How does Instant Articles work?
It takes over 8 seconds on average to load an article on a web browser. Facebook Instant Articles load 10 times faster than standard mobile web articles. More than speed, it also allows publishers to provide the same high quality, better experience and great interactivity that people expect from a mobile app.
Are Instant Articles available for everyone on Facebook?
Instant Articles are available to people who use Facebook iPhone and Android apps.
What types of articles work best for this format?
Instant Articles work for any type of articles from daily news coverage to long, in-depth features.
Why should publishers participate in Instant Articles?
There are many reasons for why should publishers participate in Instant Articles. Faster loading articles allow users to get the content as quickly as possible and help publishers generate more leads, increase traffic and grow their business.
Can Publishers sell their own ads on Instant Articles?
Yes, publishers can sell their own ads on their content and get 100% revenue. They can also sell ads in Facebook Audience Network. In that case, Facebook will take a cut of 30% of the revenue.
Useful Links
Facebook instant-articles/guides
Video Guide