How to create backlinks: 7 Proven Easy Methods to Improve Your Ranking
You created an awesome website for your business, right? Is that enough that you can now sit comfortably and have some rest? I say, no time to rest, dude.
If you want more traffic to your website or blog you need your website or blog to be ranked well in search engines such as Google and Bing and for that you have to work hard. But, I have a key to your website's success, "backlinks".
What Are Backlinks and Why They Are So Crucial?
A backlink is just a link to your website or blog pages from other websites on the internet. Backlink is the most crucial factor for Search Engine Optimization (SEO) and to drive more traffic to your website and get top ranking in search engines. Simply say, if you get many high quality backlinks to your website or blog your page will rank high on search engines.
When we talk about backlinks, we should be aware that there are 'high quality' backlinks and of course 'low quality backlinks'. While the first ones help your web improve its SEO and search engine ranking, the later ones will harm your SEO and even may cause to be banned from search engines. So, be very careful when you build backlinks.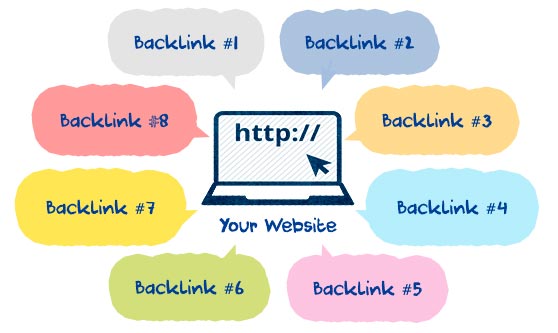 High Quality Backlinks and Low Quality Backlinks
High Quality backlinks are the links to your website or blog page from top, reputed and authoritative websites like those with a .gov and .edu distinction or sites of major publishers and information sources.
Low quality backlinks are the links from unrelated and untrusted sources like spam sites, gambling sites, sites with malware, etc. Such backlink tactics can cause real harm to your website. Therefore, consult with an SEO specialist before you move forward.
How to create backlinks: 7 Proven Easy Methods
Here are the seven proven and simple tactics to build quality backlinks for your website or blog. Remember that besides these there are many other ways as well (and you should do research on them) and I only mentioned the most effective ways which going to help you for sure.
1: Guest Posting
Guest posting is the most effective way of building quality backlink to your page. Publishing quality articles on others' websites will help you display your arguments in front of more new readers and get more connections.
Search for blogs with high domain authority and in relevant niche and build a healthy and mutual relationship with the owner. Make sure that your content is worth publishing and ask for dropping few links in a natural way to your web page.
2. Create backlink Through Infographics
This is one of the hot and popular ways in SEO world. Inphographics present the needed information in a precise and visually attractive way. Inphographics are most likely to be shared as people nowadays seem bored to read in detail.
You can hire experienced graphic designers to do the job for you. Dribble and UpWork are two good platforms where you can look for someone with an impressive portfolio and affordable rate. You can do it yourself as well using tools like Piktochart. Share your inphographic on social media and inphographic sites like AmazingInfoGraphics.com and DailyInfographic.com.
3: Comment on Others' Blogs
This is one of the easiest ways to generate some traffic to your website and get some quality backlinks. What you have to do is to visit fellow bloggers' pages, leave some valuable and useful comments and put links to your website.
People who visit the page will likely click on your name as well as create backlinks to your website. As mentioned, your comments or posts must be useful, relevant and valuable. Google Alerts can help you identify good places for commenting and posting.
4: Through Forums and Communities
Joining blogging forums and communities that are relevant to your niche is another effective way of building quality backlinks to your website. Be an active contributor by your informative posts having some valuable points and arguments with links to your website. Be aware of many spam forums out there.
Bizsugar, Blog Engage, and Inbound are some of the active blogging communities where you can get a lot of quality links back to your web.
5: The broken-link Strategy
The broken-link method is another important way for building a quality backlink to your website. This is a simple method though it takes some time and effort.
What you have to do is, while you are reading blogs, just look for websites with broken links and communicate with webmaster to report broken links and ask them to replace it with links to your content. You can use some broken-link checker plugin like Check my Links.
6: Through Social Media
Social media is an important and most popular platform used to generate some quality backlinks. You just need to create your profile and your website page in top social media platforms like Facebook, Google+, Twitter, Instagram, Pinterest, etc.
Promote your business using these media and share your content. You will also post content from other sites as well. By doing so, your customers will be able to get updated on your business and with new information on the market and thus share your posts with their friends.
7: Find Best Places to Build Backlinks
Other than social media there are some effective places where you can get a number of quality backlinks to your website and blog. Yahoo Answers, Quora, and WikiHow are some popular among them.
You need to just answer to the questions related to your website or blog post and paste your post link and URL in the source section. Try to be sincere in your answering as not for self-promoting.
What You Need To Do Now?
Before you start working on building backlinks, it is necessary to come up with a systematic and planned strategy and action plan for your job. This well help you work with a plan on a regular basis and with some seriousness. Also consult with an experienced and expert SEO specialist and do research yourself one many other ways of building backlinks other than these seven.